---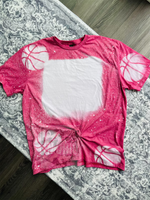 These are perfect for any team! 
I bleach all shirts in house myself so no two shirts will be the same. I do not bleach the back unless requested. 
These are Gildan Soft Style 65% polyester 35% cotton
These shirts are perfect for any type of transfer especially sublimation! These shirts come ready to press.
After you press the shirt if you have any scorching spray the shirt with peroxide and hover the press over (not on) the shirt for about 45 seconds and this will remove the scorch.